Delete chaos, earn more and fall back in love with your business.
Go from stuck to unstoppable by implementing a proven business operating system.
Discover how structure, discipline and organizational fitness can make your dream a reality by strengthening three core components of your business: People, Process, and Priorities.
ENROLL NOW
Owning and operating a successful entrepreneurial business can seem like an endless, steep climb with danger lurking throughout.
Navigating competition and market pressure, managing wrong-fit people, faulty priorities and cleaning up messes made by inconsistency can leave you exhausted, doubtful and frustrated.
It doesn't have to be this way.
You can achieve your vision and eliminate what holds you and your teams back.
But it requires a consistent routine of discipline, structure, and fitness. Get Fit Biz Academy helps you implement a simple, proven organizing framework so you ultimately gain greater profit, freedom and fitness.

Get Fit Biz Academy offers a simple and proven learning platform to help entrepreneurial owners and leadership teams delete chaos, earn more and fall back in love with their businesses.
Transform your business — and life
Enroll in Get Fit Biz Academy
We developed the academy for one reason — to help you reach the pinnacle of success. Here you'll increase discipline, structure and organizational fitness and ultimately elevate your and your business's performance.
ENROLL NOW
PEOPLE
Hire, retain and coach a disciplined and accountable team
PURPOSE
Define, align and achieve your ultimate goal
PLAYBOOK
Create a consistent, repeatable roadmap to elevate fitness in all areas of your business
PERFORM
Measure progress, get back on track and celebrate winning along the way
"I get it."
After 25 years of owning and managing entrepreneurial businesses, I've lived through some of the brightest days and darkest nights. I've learned owning and operating a business requires a level of fitness well beyond the day-to-day tasks that demand attention. The stamina required to scale rocky peaks, navigate dark valleys and reach your pinnacle is not achieved without the right people, process and priorities.
– Preston True
Founder, Get TPA Fit
ENROLL NOW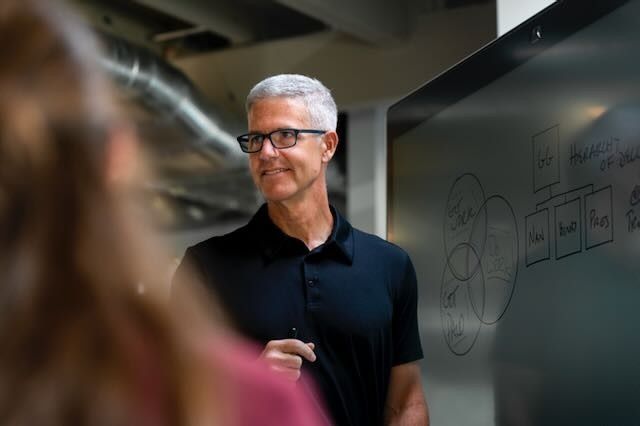 Joseph Valentic
Inveniam Capital Partners
"Preston has an excellent ability to break issues down in a way that allows you to identify not only the root cause, but to set an executable path to fix it. I would recommend Preston to anyone looking to improve their business."
Amanda Carrera
Stiris Research
"Prior to working with Preston, senior management struggled to know what was going on internally at all levels. Now that there is structure and accountability, employees and senior management talk to each other and get results."
Matthew Morin
Macro Connect
"Preston has always displayed the highest levels of professionalism and integrity. He is someone who truly cares about his clients success and it shows in the results he delivers."
PRIORITY
The busyness of running an entrepreneurial company can consume even the most driven. The problem lies in everything turning into a priority which means nothing is. Learn how to operate from a new level of focus that helps you delete the chaotic many and accomplish the vital few priorities that drive your profitability and success.
PEOPLE
Having the right people in the right seats is critical to a successful organization. But how do you truly determine who is the right person, what is the right seat and how to coach up or out effectively and swiftly? Learn how to assess, measure and coach anyone on your team to higher levels of performance and productivity.
PROCESS
Can you make burgers, fries and milkshakes the same way, every day, no matter who is making them? Process seems like a completely boring part of your business, but it is THE key to predictability and scalability. Learn how to document, measure and manage process so you don't hold yourself prisoner of your own business.
We believe in this program
Get Fit Biz Academy is designed specifically to help you grow your business with the support of a professional, strategic business guide.
To make your decision to enroll as easy as possible, we offer a 30-day "tried and applied" guarantee. Take the next 30 days to complete the first three lessons and engage with the action steps — start climbing and learning the tools. If you put in the work, but feel this isn't a good fit, reach out to us for a full refund on your first months' dues.
What's included in the membership?
Who is this membership for?
What is your refund policy?